"I am but an ordinary Man. The Times alone have destined me to Fame — and even these have not been able to give me, much…Yet some great Events, some cutting Expressions, some mean Hypocrisies, have at Times, thrown this Assemblage of Sloth, Sleep, and littleness into Rage a little like a Lion."

John Adams
I have a vivid memory – so clear that it's like a snapshot – of sitting in an American Revolution class junior year as my professor, a brilliant man and a wonderful teacher, kept extolling the virtues of George Washington and juxtaposing them with John Adams, whom he referred to as "curmudgeonly" and "acerbic."
That's all I needed to hear.
I was immediately taken with Adams. Washington was great, but he was too perfect to be interesting, at least the way in which he's so often portrayed. I did not find him relatable.
It's the same reason I prefer Batman over Superman. Give me a realistic, complex, flawed individual over a perfect Boy Scout every single day.
I immediately wanted to learn more about John Adams. Of course, I had learned the basics in high school as we all do, but that barely scratched the surface. I wanted to really dig into his life, his accomplishments, and his mentality.
My fascination with Adams was one of the major reasons I went to grad school (for a hot minute) to study history and the more I learned about him, the more I liked him. For instance, after reading about his interactions with Thomas Jefferson, I couldn't understand how anyone, let alone generations of historians, could prefer the two-faced Virginian over the flawed but honest man from Massachusetts. Adams once described the difference between he and Jefferson perfectly when he said, "Mister Jefferson tells people what they want to hear. I tell them what they need to know."
In Adams, I saw a kindred spirit.
---
---
When I was younger, if you were to ask me who my heroes were, I would have probably said Michael Jordan or a member of Wu-Tang or something, but as I grew older, I continued to gravitate towards Adams, who lived his life as best he knew how, setbacks and all.
He was devoted to his family, worked the land without the assistance of slaves, and did whatever his young country demanded of him, including spending years overseas in an effort to ensure that America's freedom that he had fought so vigorously for would not be lost. He was a brilliant thinker and writer who could also command a room with his oratory skills.
Second president of the United States. First vice president of the United States. Co-author of the Declaration of Independence. First American ambassador to Great Britain. Lawyer. Statesman. Writer. Husband. Father. Grandfather. Friend. Enemy. Patriot. Revolutionary. Founding Father. Atlas of American Independence.
Though I'm not sure any book can fully capture the man and everything he accomplished, those below come closest and everyone would do well to study my curmudgeonly, acerbic, and brilliant hero from Braintree.
These are loosely grouped by type, but are not listed in any particular order or ranking.
---
John Adams by Page Smith (1962)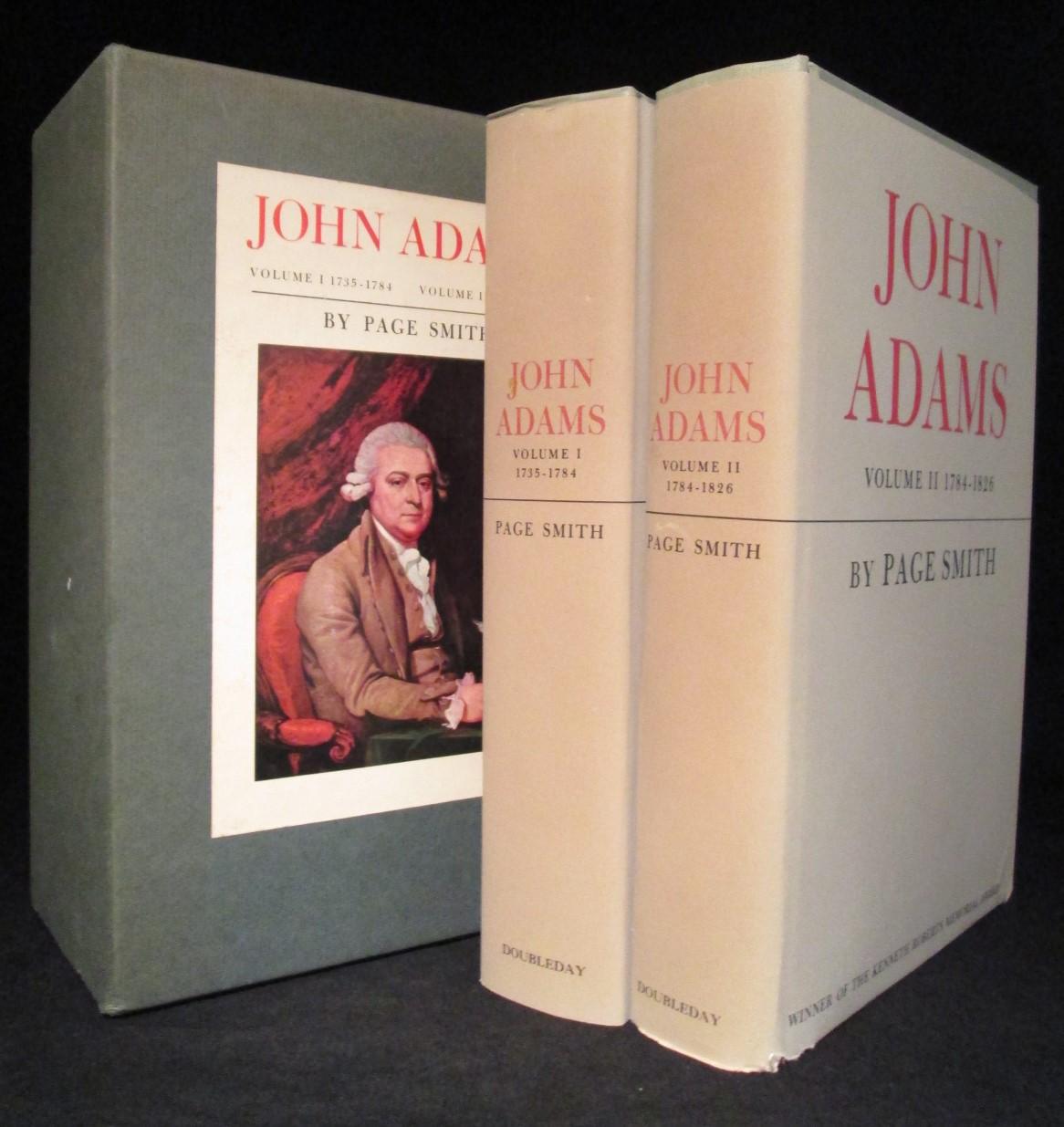 While David McCullough's biography and the HBO miniseries based on it certainly brought Adams back to the public consciousness, it was not the first work to examine Adams's life in totality. That honor belongs to Page Smith's two-volume set, which was written following the release of Adams's personal papers, including his correspondence and unfinished autobiography. Thorough, fair, and clear, it does not feel anachronistic despite it having been written a half-century ago. There are plenty of copies around – I picked up mine at Mostly Books, a wonderful used bookstore in Philly.
John Adams by David McCullough (2001)
Easily the most popular biography of Adams, David McCullough's is also the most accessible. Winner of the Pulitzer Prize, it reads like a novel, taking the reader from Adams's humble origins through his long, distinguished career, until his death. At times, it glosses over some of Adams's lesser qualities and decisions but, those are minor compared to the impact it had on the man's stature in the public consciousness.
Page Smith's was the first and David McCullough's is the most famous, but John Ferling's biography of John Adams, A Life, may be the best. Ferling, who has written more than a dozen books on Colonial America (including three at least partially focused on Adams), admits in the introduction that he had a simplistic, largely negative view of the country's first vice-president until he really began to study him. While he gained a greater appreciation for Adams, Ferling never becomes a blind defender, instead creating possibly the most comprehensive, well-rounded portrait of the man.
---
Related Reading: The Founding Fathers Needed a Lesson in Personal Finance
---
The oldest book on the list, it is, to me, the most clever as it brings to life conversations between Adams and a host of 18th-Century European writers, including Rousseau and Voltaire, by taking the marginalia Adams left in the books of those authors and turning it into a fascinating argument. It makes the reader feel as if he or she is eavesdropping on a discussion involving some of the greatest thinkers of the day – or ever.
I love this book, not only the contents but also the look of it. Gorgeous and massive, it is like one of those old, heavy books from a previous century that feel rarely get published anymore. Instead of a biography, it leverages six decades of Adams's writings to understand his opinions on governing and how those opinions grew and shifted over the course of his life. This will be appreciated by those that are looking for a deeper insight into the man's mind and not simply a recounting of his life.
Similar to Ryerson's John Adams's Republic in that it is not a biography, but an examination of one topic, Luke Mayville's book focuses on Adams's preoccupation with the aristocratic elite and the impact of wealth inequality on a society. Short and succinct, it offers plenty of lessons and insight about American politics as it prepares to enter the third decade of the new millennium.
Again not a biography, Passionate Sage is a character study, not only of Adams himself, but also of his brethren as seen through Adams's lens. Ellis writes history books for people that don't want to read dry, dense treatises and this is a comfortable, relaxed portrait of John Adams, particularly in his later years.
Power of One describes Adams as an "…undiplomatic diplomat and an impolitic politician – a fierce revolutionary yet a detached and reluctant leader of the nation he helped to found," so unlike Ellis's account, Grant's book tackles the many paradoxes and contradictions of Adams. Like all of us, Adams was complex, hypocritical, and not always rational, but unlike George Washington and others he would not – or could not – hide that part of himself, which results in our view of a realistic man and not simply a virtuous idea in human form.
---
Honorable Mention
A.
Primary Source

:
B. Books about he and his frenemy Thomas Jefferson:
C. Books about he and his revolutionary brethren:
D. Books about he and his wife, best friend, and closest adviser (those were all the same person):
---
Christopher Pierznik's nine books are available in paperback and Kindle. Check out more of his writing at Medium. His work has appeared on XXL, Cuepoint, Business Insider, The Cauldron, Medium, Fatherly, Hip Hop Golden Age, and many more. Subscribe to his monthly newsletter or follow him on Facebook or Twitter.
This article contains Amazon affiliate links. Any click may result in my receiving a commission.